Tour of Britain 2018, doppietta Greipel su Modolo e Bevin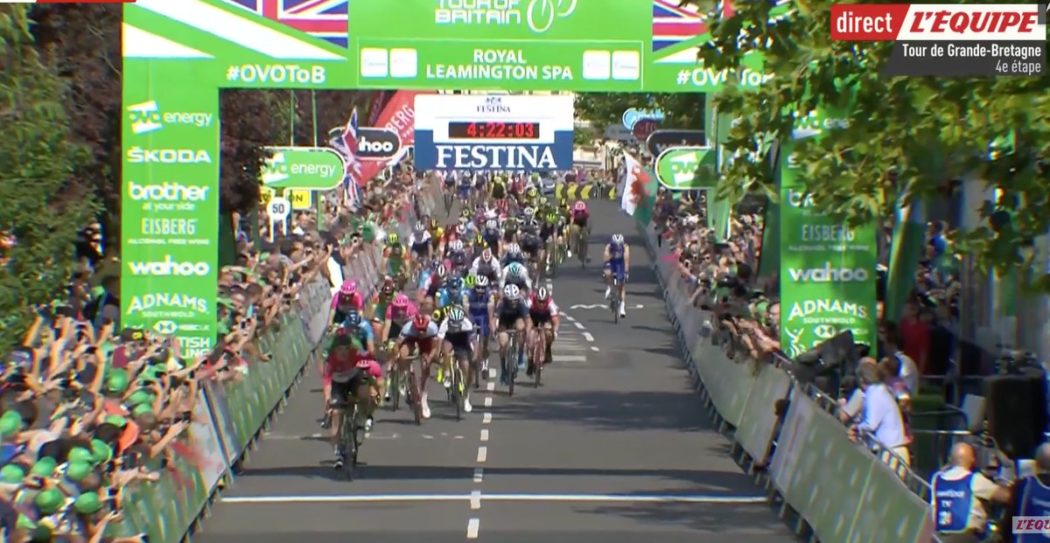 Ancora André Greipel al Tour of Britain 2018. Alla seconda occasione utile il velocista della Lotto Soudal si ripete, centrando il bis davanti a Sacha Modolo (EF-Drapac) al termine di una volata dominata in maniera netta, vinta con una bicicletta di vantaggio. Ancora ottima prestazione anche di Patrick Bevin (BMC) che con il terzo posto di giornata conquista un piccolo abbuono utile in classifica generale, riuscendo così a guadagnare su Cameron Meyer (Mitchelton-Scott) e Julian Alaphilippe (Quick-Step Floors).
Come prevedibile in una tappa di pianura, la fuga parte sin dai primi chilometri, senza grande bagarre. A comporla sono Hayden McCormick (One Pro Cycling), Thomas Moses (JLT Condor), Nic Dlamini (Dimension Data), Paul Ourselin (Direct Energie), Matthew Holmes (Madison Genesis) e Alex Paton (Canyon Eisberg) che riescono rapidamente a guadagnare 2'20" prima che il gruppo decida di entrare in azione, limitando il ritardo a circa due minuti per buona parte della tappa.
Il distacco rimane stabile sino a circa 50 chilometri dalla conclusione, quando dietro decidono di cambiare andatura. Il gap cala così rapidamente con Dlamini primo a cedere per essere rapidamente ripreso dal gruppo, che rallenta a circa 30 chilometri dalla conclusione, quando il ritardo è di appena un minuto. Distacco dunque invariato dieci chilometri più avanti, ma è solo una tregua.
Malgrado Ourselin provi a rilanciare l'azione, il gruppo ha fatto bene i suoi calcoli e si riporta sulla testa della corsa una volta entrati negli ultimi cinque chilometri. A quel punto la volata è inevitabile e il gran lavoro della Lotto Soudal viene premiato dal suo capitano. André Greipel si conferma infatti il velocista più forte in corsa imponendosi nettamente su Sacha Modolo (EF-Drapac) e il leader della generale Patrick Bevin (BMC) che si prende qualche altro secondo di abbuono.
Ordine di Arrivo Quarta Tappa Tour of Britain 2018
| | | | | | | |
| --- | --- | --- | --- | --- | --- | --- |
| 1 | GREIPEL | André | GER | LOTTO SOUDAL | 36 | 4:22:04 |
| 2 | MODOLO | Sacha | ITA | TEAM EF EDUCATION FIRST – DRAPAC P/B CANNONDALE | 31 | +00 |
| 3 | BEVIN | Patrick | NZL | BMC RACING TEAM | 27 | +00 |
| 4 | ZABEL | Rick | GER | TEAM KATUSHA ALPECIN | 25 | +00 |
| 5 | BARBERO | Carlos | ESP | MOVISTAR TEAM | 27 | +00 |
| 6 | LIEPINS | Emils | LAT | ONE PRO CYCLING | 26 | +00 |
| 7 | CARDIS | Romain | FRA | DIRECT ENERGIE | 26 | +00 |
| 8 | MCLAY | Daniel | GBR | TEAM EF EDUCATION FIRST – DRAPAC P/B CANNONDALE | 26 | +00 |
| 9 | TENNANT | Andrew | GBR | CANYON EISBERG | 31 | +00 |
| 10 | CULLAIGH | Gabriel | GBR | TEAM WIGGINS | 22 | +00 |
| 11 | ALBANESE | Vincenzo | ITA | BARDIANI CSF | 22 | +00 |
| 12 | GAVIRIA RENDON | Fernando | COL | QUICK – STEP FLOORS | 24 | +00 |
| 13 | PHINNEY | Taylor | USA | TEAM EF EDUCATION FIRST – DRAPAC P/B CANNONDALE | 28 | +00 |
| 14 | ROJAS | José | ESP | MOVISTAR TEAM | 33 | +00 |
| 15 | RENSHAW | Mark | AUS | TEAM DIMENSION DATA | 36 | +00 |
| 16 | PASQUALON | Andrea | ITA | WANTY – GROUPE GOBERT | 30 | +00 |
| 17 | DOWNEY | Mark | IRL | TEAM WIGGINS | 22 | +00 |
| 18 | SÜTTERLIN | Jasha | GER | MOVISTAR TEAM | 26 | +00 |
| 19 | POELS | Wout | NED | TEAM SKY | 31 | +00 |
| 20 | ROELANDTS | Jurgen | BEL | BMC RACING TEAM | 33 | +00 |
| 21 | SWIFT | Connor | GBR | MADISON GENESIS | 23 | +00 |
| 22 | SLATER | Alistair | GBR | JLT CONDOR | 25 | +00 |
| 23 | SCHMIDT WÜRTZ | Mads | DEN | TEAM KATUSHA ALPECIN | 24 | +00 |
| 24 | CHRISTENSEN | Ryan | NZL | CANYON EISBERG | 22 | +00 |
| 25 | STEDMAN | Maximilian | GBR | CANYON EISBERG | 22 | +00 |
| 26 | EENKHOORN | Pascal | NED | TEAM LOTTO NL – JUMBO | 21 | +00 |
| 27 | SIMION | Paolo | ITA | BARDIANI CSF | 26 | +00 |
| 28 | GUARDINI | Andrea | ITA | BARDIANI CSF | 29 | +00 |
| 29 | SMITH | Dion | NZL | WANTY – GROUPE GOBERT | 25 | +00 |
| 30 | EWAN | Caleb | AUS | MITCHELTON – SCOTT | 24 | +00 |
| 31 | JUNGELS | Bob | LUX | QUICK – STEP FLOORS | 26 | +00 |
| 32 | RICHEZE | Maximiliano Ariel | ARG | QUICK – STEP FLOORS | 35 | +00 |
| 33 | BRADBURY | Edmund | GBR | JLT CONDOR | 26 | +00 |
| 34 | DRUCKER | Jean-Pierre | LUX | BMC RACING TEAM | 32 | +00 |
| 35 | WILLIAMS | Peter | GBR | ONE PRO CYCLING | 32 | +00 |
| 36 | SHAW | James | GBR | LOTTO SOUDAL |   | +00 |
| 37 | TOWNSEND | Rory | GBR | CANYON EISBERG | 23 | +00 |
| 38 | ALAPHILIPPE | Julian | FRA | QUICK – STEP FLOORS | 26 | +00 |
| 39 | POWLESS | Neilson | USA | TEAM LOTTO NL – JUMBO | 22 | +00 |
| 40 | CARBONI | Giovanni | ITA | BARDIANI CSF | 23 | +00 |
| 41 | DAVIES | Scott | GBR | TEAM DIMENSION DATA | 23 | +00 |
| 42 | MEURISSE | Xandro | BEL | WANTY – GROUPE GOBERT | 26 | +00 |
| 43 | STRAKHOV | Dmitrii | RUS | LOKOSPHINX | 23 | +00 |
| 44 | ANTONINI | Simone | ITA | WANTY – GROUPE GOBERT | 27 | +00 |
| 45 | KÜNG | Stefan | SUI | BMC RACING TEAM | 25 | +00 |
| 46 | HAMILTON | Christopher | AUS | TEAM SUNWEB | 23 | +00 |
| 47 | VAN EMDEN | Jos | NED | TEAM LOTTO NL – JUMBO | 33 | +00 |
| 48 | BAYLIS | Thomas | GBR | ONE PRO CYCLING | 22 | +00 |
| 49 | SWIFT | Ben | GBR | GREAT BRITAIN | 31 | +00 |
| 50 | PIDCOCK | Thomas | GBR | TEAM WIGGINS | 19 | +00 |
| 51 | CARTHY | Hugh John | GBR | TEAM EF EDUCATION FIRST – DRAPAC P/B CANNONDALE | 24 | +00 |
| 52 | PICHOT | Alexandre | FRA | DIRECT ENERGIE | 35 | +00 |
| 53 | FERNANDEZ | Ruben | ESP | MOVISTAR TEAM | 27 | +00 |
| 54 | HOLMES | Matthew | GBR | MADISON GENESIS | 25 | +00 |
| 55 | MEYER | Cameron | AUS | MITCHELTON – SCOTT | 30 | +00 |
| 56 | PYM | George | GBR | MADISON GENESIS | 24 | +00 |
| 57 | DE BUYST | Jasper | BEL | LOTTO SOUDAL | 25 | +00 |
| 58 | DOWSETT | Alex | GBR | TEAM KATUSHA ALPECIN | 30 | +00 |
| 59 | ROGLIČ | Primož | SLO | TEAM LOTTO NL – JUMBO | 29 | +00 |
| 60 | MOULD | Jonathan | GBR | JLT CONDOR | 27 | +00 |
| 61 | SEPULVEDA | Eduardo | ARG | MOVISTAR TEAM | 27 | +00 |
| 62 | CHAVANEL | Sylvain | FRA | DIRECT ENERGIE | 39 | +00 |
| 63 | NIEVE ITURRALDE | Mikel | ESP | MITCHELTON – SCOTT | 34 | +00 |
| 64 | TONELLI | Alessandro | ITA | BARDIANI CSF | 26 | +00 |
| 65 | VERVAEKE | Louis | BEL | TEAM SUNWEB | 25 | +00 |
| 66 | THOMSON | Jay Robert | RSA | TEAM DIMENSION DATA | 32 | +00 |
| 67 | POWER | Rob | AUS | MITCHELTON – SCOTT | 23 | +00 |
| 68 | TEGGART | Matthew | IRL | TEAM WIGGINS | 22 | +00 |
| 69 | DLAMINI | Nicholas | RSA | TEAM DIMENSION DATA | 23 | +00 |
| 70 | WRIGHT | Fred | GBR |   |   | +00 |
| 71 | THWAITES | Scott | GBR | TEAM DIMENSION DATA | 28 | +00 |
| 72 | POLITT | Nils | GER | TEAM KATUSHA ALPECIN | 24 | +00 |
| 73 | NALLY | Joseph | GBR | GREAT BRITAIN | 19 | +00 |
| 74 | LATHAM | Christopher | GBR | ONE PRO CYCLING | 24 | +00 |
| 75 | VENTER | Jaco | RSA | TEAM DIMENSION DATA | 31 | +00 |
| 76 | VAN GARDEREN | Tejay | USA | BMC RACING TEAM | 30 | +00 |
| 77 | HIVERT | Jonathan | FRA | DIRECT ENERGIE | 33 | +00 |
| 78 | SCOTSON | Miles | AUS | BMC RACING TEAM | 24 | +00 |
| 79 | WISNIOWSKI | Lukasz | POL | TEAM SKY | 27 | +00 |
| 80 | KIRYIENKA | Vasil | BLR | TEAM SKY | 37 | +00 |
| 81 | THOMAS | Geraint | GBR | TEAM SKY | 32 | +00 |
| 82 | DE LA PARTE | Victor | ESP | MOVISTAR TEAM | 32 | +00 |
| 83 | ORAM | James | NZL | ONE PRO CYCLING | 25 | +00 |
| 84 | SCHACHMANN | Maximilian | GER | QUICK – STEP FLOORS | 24 | +00 |
| 85 | WILLIAMS | Stephen | GBR | GREAT BRITAIN | 22 | +00 |
| 86 | HANDLEY | Richard | GBR | MADISON GENESIS | 28 | +00 |
| 87 | WYNANTS | Maarten | BEL | TEAM LOTTO NL – JUMBO | 36 | +00 |
| 88 | HOFSTEDE | Lennard | NED | TEAM SUNWEB | 24 | +00 |
| 89 | OURSELIN | Paul | FRA | DIRECT ENERGIE | 24 | +00 |
| 90 | STEWART | Thomas | GBR | JLT CONDOR | 28 | +00 |
| 91 | BRESCHEL | Matti | DEN | TEAM EF EDUCATION FIRST – DRAPAC P/B CANNONDALE | 34 | +22 |
| 92 | BOSTOCK | Matthew | GBR | GREAT BRITAIN | 21 | +32 |
| 93 | TULIK | Angelo | FRA | DIRECT ENERGIE | 28 | +32 |
| 94 | MCCORMICK | Hayden | NZL | ONE PRO CYCLING | 24 | +38 |
| 95 | STANNARD | Ian | GBR | TEAM SKY | 31 | +44 |
| 96 | FROOME | Chris | GBR | TEAM SKY | 33 | +44 |
| 97 | FOUCHE | James | NZL | TEAM WIGGINS | 20 | +44 |
| 98 | GARDIAS | Dexter | GBR | CANYON EISBERG | 28 | +44 |
| 99 | KLUGE | Roger | GER | MITCHELTON – SCOTT | 32 | +44 |
| 100 | MCNALLY | Mark | GBR | WANTY – GROUPE GOBERT | 29 | +44 |
| 101 | MARTIN | Tony | GER | TEAM KATUSHA ALPECIN | 33 | +44 |
| 102 | BAUHAUS | Phil | GER | TEAM SUNWEB | 24 | +44 |
| 103 | PATON | Alex | GBR | CANYON EISBERG | 28 | +44 |
| 104 | ROWSELL | Erick | GBR | MADISON GENESIS | 28 | +57 |
| 105 | BARBIN | Enrico | ITA | BARDIANI CSF | 28 | +01:03 |
| 106 | MCEVOY | Jonathan | GBR | MADISON GENESIS | 29 | +01:07 |
| 107 | HOFLAND | Moreno | NED | LOTTO SOUDAL | 27 | +01:07 |
| 108 | KEUKELEIRE | Jens | BEL | LOTTO SOUDAL | 30 | +01:30 |
| 109 | FERNANDES NEVES | José | POR | W52/FC PORTO | 23 | +01:33 |
| 110 | EEKHOFF | Nils | NED | DEVELOPMENT TEAM SUNWEB | 20 | +00 |
| 111 | HAYTER | Ethan | GBR | GREAT BRITAIN | 20 | +00 |
| 112 | MOSES | Thomas | GBR | JLT CONDOR | 26 | +03:14 |
| 113 | BRIGGS | Graham | GBR | JLT CONDOR | 35 | +03:14 |
| 114 | KEISSE | Iljo | BEL | QUICK – STEP FLOORS | 36 | +03:50 |
| 115 | BOUWMAN | Koen | NED | TEAM LOTTO NL – JUMBO | 25 | +03:50 |
Classifica Generale
| | | | | | | |
| --- | --- | --- | --- | --- | --- | --- |
| 1 | BEVIN | Patrick | NZL | BMC RACING TEAM | 27 | 15:25:11 |
| 2 | MEYER | Cameron | AUS | MITCHELTON – SCOTT | 30 | +04 |
| 3 | ALAPHILIPPE | Julian | FRA | QUICK – STEP FLOORS | 26 | +06 |
| 4 | SÜTTERLIN | Jasha | GER | MOVISTAR TEAM | 26 | +16 |
| 5 | POELS | Wout | NED | TEAM SKY | 31 | +16 |
| 6 | HAMILTON | Christopher | AUS | TEAM SUNWEB | 23 | +16 |
| 7 | JUNGELS | Bob | LUX | QUICK – STEP FLOORS | 26 | +16 |
| 8 | ROGLIČ | Primož | SLO | TEAM LOTTO NL – JUMBO | 29 | +16 |
| 9 | CARTHY | Hugh John | GBR | TEAM EF EDUCATION FIRST – DRAPAC P/B CANNONDALE | 24 | +23 |
| 10 | DAVIES | Scott | GBR | TEAM DIMENSION DATA | 23 | +26 |
| 11 | SCHMIDT WÜRTZ | Mads | DEN | TEAM KATUSHA ALPECIN | 24 | +50 |
| 12 | EENKHOORN | Pascal | NED | TEAM LOTTO NL – JUMBO | 21 | +50 |
| 13 | STRAKHOV | Dmitrii | RUS | LOKOSPHINX | 23 | +50 |
| 14 | SMITH | Dion | NZL | WANTY – GROUPE GOBERT | 25 | +53 |
| 15 | ROJAS | José | ESP | MOVISTAR TEAM | 33 | +53 |
| 16 | MEURISSE | Xandro | BEL | WANTY – GROUPE GOBERT | 26 | +53 |
| 17 | VAN EMDEN | Jos | NED | TEAM LOTTO NL – JUMBO | 33 | +53 |
| 18 | STEDMAN | Maximilian | GBR | CANYON EISBERG | 22 | +53 |
| 19 | DE BUYST | Jasper | BEL | LOTTO SOUDAL | 25 | +53 |
| 20 | POWLESS | Neilson | USA | TEAM LOTTO NL – JUMBO | 22 | +53 |
| 21 | PIDCOCK | Thomas | GBR | TEAM WIGGINS | 19 | +53 |
| 22 | HAYTER | Ethan | GBR | GREAT BRITAIN | 20 | +53 |
| 23 | BRADBURY | Edmund | GBR | JLT CONDOR | 26 | +53 |
| 24 | HIVERT | Jonathan | FRA | DIRECT ENERGIE | 33 | +53 |
| 25 | TONELLI | Alessandro | ITA | BARDIANI CSF | 26 | +55 |
| 26 | VAN GARDEREN | Tejay | USA | BMC RACING TEAM | 30 | +01:12 |
| 27 | SHAW | James | GBR | LOTTO SOUDAL |   | +01:28 |
| 28 | THWAITES | Scott | GBR | TEAM DIMENSION DATA | 28 | +01:44 |
| 29 | SWIFT | Connor | GBR | MADISON GENESIS | 23 | +01:46 |
| 30 | FERNANDEZ | Ruben | ESP | MOVISTAR TEAM | 27 | +02:53 |
| 31 | SCHACHMANN | Maximilian | GER | QUICK – STEP FLOORS | 24 | +02:59 |
| 32 | WILLIAMS | Stephen | GBR | GREAT BRITAIN | 22 | +02:59 |
| 33 | MODOLO | Sacha | ITA | TEAM EF EDUCATION FIRST – DRAPAC P/B CANNONDALE | 31 | +03:30 |
| 34 | LIEPINS | Emils | LAT | ONE PRO CYCLING | 26 | +03:32 |
| 35 | ROELANDTS | Jurgen | BEL | BMC RACING TEAM | 33 | +03:36 |
| 36 | SEPULVEDA | Eduardo | ARG | MOVISTAR TEAM | 27 | +03:36 |
| 37 | NIEVE ITURRALDE | Mikel | ESP | MITCHELTON – SCOTT | 34 | +03:36 |
| 38 | BARBERO | Carlos | ESP | MOVISTAR TEAM | 27 | +03:42 |
| 39 | CHAVANEL | Sylvain | FRA | DIRECT ENERGIE | 39 | +03:42 |
| 40 | POWER | Rob | AUS | MITCHELTON – SCOTT | 23 | +03:42 |
| 41 | HOLMES | Matthew | GBR | MADISON GENESIS | 25 | +03:43 |
| 42 | KIRYIENKA | Vasil | BLR | TEAM SKY | 37 | +03:52 |
| 43 | ORAM | James | NZL | ONE PRO CYCLING | 25 | +04:16 |
| 44 | RICHEZE | Maximiliano Ariel | ARG | QUICK – STEP FLOORS | 35 | +04:27 |
| 45 | OURSELIN | Paul | FRA | DIRECT ENERGIE | 24 | +04:27 |
| 46 | WYNANTS | Maarten | BEL | TEAM LOTTO NL – JUMBO | 36 | +04:27 |
| 47 | CHRISTENSEN | Ryan | NZL | CANYON EISBERG | 22 | +04:38 |
| 48 | CULLAIGH | Gabriel | GBR | TEAM WIGGINS | 22 | +04:59 |
| 49 | PASQUALON | Andrea | ITA | WANTY – GROUPE GOBERT | 30 | +04:59 |
| 50 | DOWSETT | Alex | GBR | TEAM KATUSHA ALPECIN | 30 | +04:59 |
| 51 | KÜNG | Stefan | SUI | BMC RACING TEAM | 25 | +04:59 |
| 52 | DRUCKER | Jean-Pierre | LUX | BMC RACING TEAM | 32 | +04:59 |
| 53 | THOMAS | Geraint | GBR | TEAM SKY | 32 | +04:59 |
| 54 | MCCORMICK | Hayden | NZL | ONE PRO CYCLING | 24 | +05:03 |
| 55 | BRESCHEL | Matti | DEN | TEAM EF EDUCATION FIRST – DRAPAC P/B CANNONDALE | 34 | +05:21 |
| 56 | BARBIN | Enrico | ITA | BARDIANI CSF | 28 | +05:30 |
| 57 | GAVIRIA RENDON | Fernando | COL | QUICK – STEP FLOORS | 24 | +06:31 |
| 58 | EWAN | Caleb | AUS | MITCHELTON – SCOTT | 24 | +06:34 |
| 59 | THOMSON | Jay Robert | RSA | TEAM DIMENSION DATA | 32 | +06:35 |
| 60 | CARBONI | Giovanni | ITA | BARDIANI CSF | 23 | +06:35 |
| 61 | DE LA PARTE | Victor | ESP | MOVISTAR TEAM | 32 | +06:35 |
| 62 | EEKHOFF | Nils | NED | DEVELOPMENT TEAM SUNWEB | 20 | +06:35 |
| 63 | SCOTSON | Miles | AUS | BMC RACING TEAM | 24 | +06:35 |
| 64 | VENTER | Jaco | RSA | TEAM DIMENSION DATA | 31 | +06:35 |
| 65 | VERVAEKE | Louis | BEL | TEAM SUNWEB | 25 | +07:31 |
| 66 | MCNALLY | Mark | GBR | WANTY – GROUPE GOBERT | 29 | +08:47 |
| 67 | WISNIOWSKI | Lukasz | POL | TEAM SKY | 27 | +08:54 |
| 68 | SWIFT | Ben | GBR | GREAT BRITAIN | 31 | +09:12 |
| 69 | WRIGHT | Fred | GBR |   |   | +09:12 |
| 70 | HOFSTEDE | Lennard | NED | TEAM SUNWEB | 24 | +09:12 |
| 71 | CARDIS | Romain | FRA | DIRECT ENERGIE | 26 | +09:39 |
| 72 | STANNARD | Ian | GBR | TEAM SKY | 31 | +10:01 |
| 73 | DLAMINI | Nicholas | RSA | TEAM DIMENSION DATA | 23 | +10:30 |
| 74 | DOWNEY | Mark | IRL | TEAM WIGGINS | 22 | +11:32 |
| 75 | GREIPEL | André | GER | LOTTO SOUDAL | 36 | +11:56 |
| 76 | SLATER | Alistair | GBR | JLT CONDOR | 25 | +12:14 |
| 77 | ZABEL | Rick | GER | TEAM KATUSHA ALPECIN | 25 | +12:16 |
| 78 | PHINNEY | Taylor | USA | TEAM EF EDUCATION FIRST – DRAPAC P/B CANNONDALE | 28 | +12:16 |
| 79 | KEUKELEIRE | Jens | BEL | LOTTO SOUDAL | 30 | +13:44 |
| 80 | FOUCHE | James | NZL | TEAM WIGGINS | 20 | +13:51 |
| 81 | HANDLEY | Richard | GBR | MADISON GENESIS | 28 | +13:57 |
| 82 | ROWSELL | Erick | GBR | MADISON GENESIS | 28 | +14:54 |
| 83 | TEGGART | Matthew | IRL | TEAM WIGGINS | 22 | +14:58 |
| 84 | SIMION | Paolo | ITA | BARDIANI CSF | 26 | +15:07 |
| 85 | ANTONINI | Simone | ITA | WANTY – GROUPE GOBERT | 27 | +15:07 |
| 86 | HOFLAND | Moreno | NED | LOTTO SOUDAL | 27 | +16:14 |
| 87 | BOUWMAN | Koen | NED | TEAM LOTTO NL – JUMBO | 25 | +16:57 |
| 88 | BOSTOCK | Matthew | GBR | GREAT BRITAIN | 21 | +17:28 |
| 89 | GUARDINI | Andrea | ITA | BARDIANI CSF | 29 | +17:33 |
| 90 | BAYLIS | Thomas | GBR | ONE PRO CYCLING | 22 | +17:33 |
| 91 | MOULD | Jonathan | GBR | JLT CONDOR | 27 | +17:41 |
| 92 | RENSHAW | Mark | AUS | TEAM DIMENSION DATA | 36 | +17:44 |
| 93 | MCLAY | Daniel | GBR | TEAM EF EDUCATION FIRST – DRAPAC P/B CANNONDALE | 26 | +17:44 |
| 94 | TENNANT | Andrew | GBR | CANYON EISBERG | 31 | +17:44 |
| 95 | NALLY | Joseph | GBR | GREAT BRITAIN | 19 | +17:44 |
| 96 | STEWART | Thomas | GBR | JLT CONDOR | 28 | +17:44 |
| 97 | TULIK | Angelo | FRA | DIRECT ENERGIE | 28 | +18:14 |
| 98 | WILLIAMS | Peter | GBR | ONE PRO CYCLING | 32 | +18:22 |
| 99 | FROOME | Chris | GBR | TEAM SKY | 33 | +18:28 |
| 100 | MARTIN | Tony | GER | TEAM KATUSHA ALPECIN | 33 | +19:55 |
| 101 | PICHOT | Alexandre | FRA | DIRECT ENERGIE | 35 | +20:10 |
| 102 | PYM | George | GBR | MADISON GENESIS | 24 | +20:10 |
| 103 | BAUHAUS | Phil | GER | TEAM SUNWEB | 24 | +20:54 |
| 104 | KLUGE | Roger | GER | MITCHELTON – SCOTT | 32 | +21:16 |
| 105 | LATHAM | Christopher | GBR | ONE PRO CYCLING | 24 | +21:19 |
| 106 | FERNANDES NEVES | José | POR | W52/FC PORTO | 23 | +21:42 |
| 107 | PATON | Alex | GBR | CANYON EISBERG | 28 | +22:19 |
| 108 | GARDIAS | Dexter | GBR | CANYON EISBERG | 28 | +22:23 |
| 109 | TOWNSEND | Rory | GBR | CANYON EISBERG | 23 | +22:27 |
| 110 | MOSES | Thomas | GBR | JLT CONDOR | 26 | +23:08 |
| 111 | MCEVOY | Jonathan | GBR | MADISON GENESIS | 29 | +23:38 |
| 112 | KEISSE | Iljo | BEL | QUICK – STEP FLOORS | 36 | +28:16 |
| 113 | BRIGGS | Graham | GBR | JLT CONDOR | 35 | +28:31 |
| 114 | POLITT | Nils | GER | TEAM KATUSHA ALPECIN | 24 | +29:42 |
| 115 | ALBANESE | Vincenzo | ITA | BARDIANI CSF | 22 | +33:55 |
• SpazioCiclismo è stato selezionato dal nuovo servizio di Google News, per restare sempre aggiornato sulle ultime notizie di ciclismo seguici qui