Volta a Catalunya 2018, Camprodon is the new stage 3 finish – Stage 3 profile (Updated)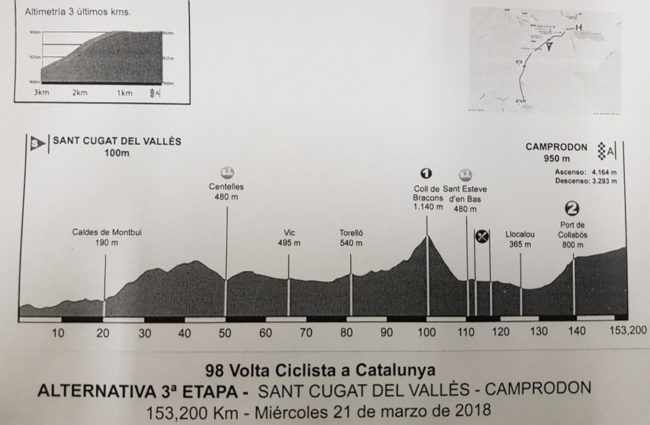 It is not a sure thing yet that Volta a Catalunya 2018 first uphill finish in Vallter 2000 will actually take place. The stage that ends in Vallter 2000, together with the one that finishes in La Molina, is one of the two mountain stages planned for the GC contenders to fight for the overall. The road which leads to tomorrow's finish line is quite clear so it is not the snow on the route that frightens the organizers. Actually the weather reports forecast very strong wind for tomorrow and the Volta a Catalunya stage 3 finish line may be changed. The organisers are hypothesizing two different solutions: the first consists in changing completely the course of tomorrow's stage and the second one is about setting the finish line a little lower. More news should be available at the end of the day, even if the most feasible option is the second one.
19:05 CET Update
Sant Cugat del Vallés – Camprodon (153,9 km)
The Volta a Catalunya stage 3 route will be radically changed. Given the real risk of avalanches on the way to Vallter 2000 and because of the strong wind that is forecasted to blow tomorrow, the finish line will be set in Camprodon. The option of setting the finsh line lower along the Vallter uphill is not anymore taken into account. The race will finish for sure in Camprodon and the change will affect only the finale.
Volta a Catalunya stage 3 profile