Dubai Tour 2018, Viviani takes stage and overall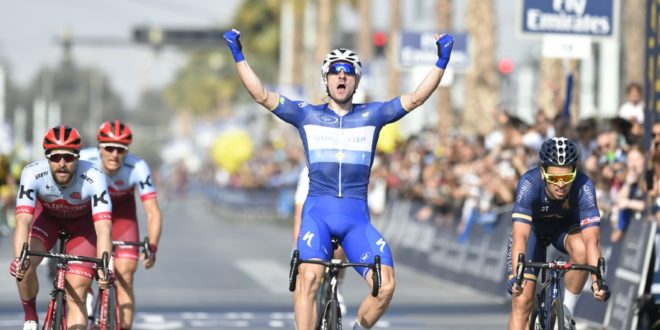 Elia Viviani wins stage 5 of Dubai Tour 2018 and takes home the overall. Quick Step Floor's leader amazingly comes back over Marco Haller (Katusha-Alpecin) and Adam Blythe (Aqua Blue Sport) thanks to a powerful effort carried out in the last 50 meters. Concurrently, Viviani takes the general classification of the race over Magnus Cort Nielsen (Astana) and Sonny Colbrelli (Bahrain-Merida).
Nasser Almemari (UAE National Team), Daniel Pearson (Aqua Blue Sport), Xialong Sun (Mitchelton – BikeExchange) and Quentin Valognes (Novo Nordisk) burn their matches at the beginning of the race and open a 5 minutes advantage over the peloton. Lead by Quick Step Floors, Lotto Nl-Jumbo and UAE Team Emirates men, the group comfortably jump across the gap and reels in the breakaway with just over 25 kilometers to go. Pearson tries to resist the group's comeback but soon the British raises the white flag. Jacob Hennessy e Robert Stannard (Mitchelton-Bike Exchange) attempt a counter-attack which seems nearly successful. However, the break lose out and gets caught by the group with just over 4 kilometers remaining. In the last corner a fall opens a gap between Katusha train and a small clutch of men over the rest of the group but, thanks to Fabio Sabatini's effort, Elia Viviani comes back the leaders and overcomes the competitors with a brilliant sprint.
DUBAI TOUR 2018 STAGE 5 CLASSIFICATION
| | | | | | | |
| --- | --- | --- | --- | --- | --- | --- |
| 1 | VIVIANI | Elia | ITA | QUICK – STEP FLOORS | 29 | 3:05:28 |
| 2 | HALLER | Marco | AUT | TEAM KATUSHA ALPECIN | 27 | 3:05:28 |
| 3 | BLYTHE | Adam | GBR | AQUA BLUE SPORT | 29 | 3:05:28 |
| 4 | DRUCKER | Jean-Pierre | LUX | BMC RACING TEAM | 32 | 3:05:28 |
| 5 | ZABEL | Rick | GER | TEAM KATUSHA ALPECIN | 25 | 3:05:28 |
| 6 | KITTEL | Marcel | GER | TEAM KATUSHA ALPECIN | 30 | 3:05:28 |
| 7 | COLBRELLI | Sonny | ITA | BAHRAIN – MERIDA | 28 | 3:05:28 |
| 8 | NIELSEN | Magnus Cort | DEN | ASTANA PRO TEAM | 25 | 3:05:28 |
| 9 | PERON | Andrea | ITA | TEAM NOVO NORDISK | 30 | 3:05:28 |
| 10 | SABATINI | Fabio | ITA | QUICK – STEP FLOORS | 33 | 3:05:28 |
| 11 | COLEDAN | Marco | ITA | WILIER TRIESTINA – SELLE ITALIA | 30 | 3:05:28 |
| 12 | JANSEN | Amund Grøndahl | NOR | TEAM LOTTO NL – JUMBO | 24 | 3:05:28 |
| 13 | DE VREESE | Laurens | BEL | ASTANA PRO TEAM | 30 | 3:05:28 |
| 14 | MAGNER | Tyler | USA | RALLY CYCLING | 27 | 3:05:28 |
| 15 | MCNULTY | Brandon | USA | RALLY CYCLING | 20 | 3:05:28 |
| 16 | LEMOINE | Cyril | FRA | COFIDIS, SOLUTIONS CREDITS | 35 | 3:05:28 |
| 17 | ROCHE | Nicolas | IRL | BMC RACING TEAM | 34 | 3:05:28 |
| 18 | VAN HOOYDONCK | Nathan | BEL | BMC RACING TEAM | 23 | 3:05:28 |
| 19 | VLIEGEN | Loïc | BEL | BMC RACING TEAM | 25 | 3:05:28 |
| 20 | TEUNS | Dylan | BEL | BMC RACING TEAM | 26 | 3:05:28 |
| 21 | BIEKEN | Nazhaerbieke | CHN | MITCHELTON – BIKEEXCHANGE | 24 | 3:05:28 |
| 22 | MIRZA AL-HAMMADI | Yousif | UAE | UAE TEAM EMIRATES | 30 | 3:05:28 |
| 23 | ROOSEN | Timo | NED | TEAM LOTTO NL – JUMBO | 25 | 3:05:28 |
| 24 | LAMPAERT | Yves | BEL | QUICK – STEP FLOORS | 27 | 3:05:28 |
| 25 | ZHUPA | Eugert | ALB | WILIER TRIESTINA – SELLE ITALIA | 28 | 3:05:28 |
| 26 | KREDER | Michel | NED | AQUA BLUE SPORT | 31 | 3:05:28 |
| 27 | KAMSTRA | Brian | NED | TEAM NOVO NORDISK | 25 | 3:05:28 |
| 28 | VENTOSO ALBERDI | Francisco Jose | ESP | BMC RACING TEAM | 36 | 3:05:28 |
| 29 | JENNER | Samuel | AUS | MITCHELTON – BIKEEXCHANGE | 21 | 3:05:28 |
| 30 | BEVILACQUA | Simone | ITA | WILIER TRIESTINA – SELLE ITALIA | 21 | 3:05:28 |
| 31 | GANNA | Filippo | ITA | UAE TEAM EMIRATES | 22 | 3:05:28 |
| 32 | KOREN | Kristijan | SLO | BAHRAIN – MERIDA | 32 | 3:05:28 |
| 33 | GROENEWEGEN | Dylan | NED | TEAM LOTTO NL – JUMBO | 25 | 3:05:28 |
| 34 | BYSTRØM | Sven Erik | NOR | UAE TEAM EMIRATES | 26 | 3:05:28 |
| 35 | VAN LERBERGHE | Bert | BEL | COFIDIS, SOLUTIONS CREDITS | 26 | 3:05:28 |
| 36 | CHETOUT | Loic | FRA | COFIDIS, SOLUTIONS CREDITS | 26 | 3:05:28 |
| 37 | SCHACHMANN | Maximilian | GER | QUICK – STEP FLOORS | 24 | 3:05:28 |
| 38 | ALBALUSHI | Majid | UAE | UNITED ARAB EMIRATES | 31 | 3:05:28 |
| 39 | VAN POPPEL | Boy | NED | TREK – SEGAFREDO | 30 | 3:05:28 |
| 40 | POLITT | Nils | GER | TEAM KATUSHA ALPECIN | 24 | 3:05:28 |
| 41 | MINALI | Riccardo | ITA | ASTANA PRO TEAM | 23 | 3:05:28 |
| 42 | BENHAMOUDA | Mehdi | FRA | TEAM NOVO NORDISK | 23 | 3:05:28 |
| 43 | NAVARRO GARCIA | Daniel | ESP | COFIDIS, SOLUTIONS CREDITS | 35 | 3:05:28 |
| 44 | FENN | Andrew | GBR | AQUA BLUE SPORT | 28 | 3:05:28 |
| 45 | KUZNETSOV | Viacheslav | RUS | TEAM KATUSHA ALPECIN | 29 | 3:05:28 |
| 46 | BOHLI | Tom | SUI | BMC RACING TEAM | 24 | 3:05:28 |
| 47 | GIRMAZION | Daniel | ERI |   | 30 | 3:05:28 |
| 48 | ALMEMARI | Nasser | UAE | UNITED ARAB EMIRATES | 31 | 3:05:28 |
| 49 | TERPSTRA | Niki | NED | QUICK – STEP FLOORS | 34 | 3:05:28 |
| 50 | PACIONI | Luca | ITA | WILIER TRIESTINA – SELLE ITALIA | 25 | 3:05:28 |
| 51 | POZZATO | Filippo | ITA | WILIER TRIESTINA – SELLE ITALIA | 37 | 3:05:28 |
| 52 | TLEUBAYEV | Ruslan | KAZ | ASTANA PRO TEAM | 31 | 3:05:28 |
| 53 | YOUNG | Eric | USA | RALLY CYCLING | 29 | 3:05:28 |
| 54 | PATE | Danny | USA | RALLY CYCLING | 39 | 3:05:28 |
| 55 | KORSÆTH | Truls | NOR | ASTANA PRO TEAM | 25 | 3:05:28 |
| 56 | BOLE | Grega | SLO | BAHRAIN – MERIDA | 33 | 3:05:28 |
| 57 | PLANET | Charles | FRA | TEAM NOVO NORDISK | 25 | 3:05:28 |
| 58 | KRISTOFF | Alexander | NOR | UAE TEAM EMIRATES | 31 | 3:05:28 |
| 59 | SUN | Xiaolong | CHN | MITCHELTON – BIKEEXCHANGE |   | 3:05:28 |
| 60 | HENNESSY | Jacob | GBR | MITCHELTON – BIKEEXCHANGE | 22 | 3:06:21 |
| 61 | STANNARD | Robert | AUS | MITCHELTON – BIKEEXCHANGE | 20 | 3:05:28 |
| 62 | TANKINK | Bram | NED | TEAM LOTTO NL – JUMBO | 40 | 3:05:28 |
| 63 | MARECZKO | Jakub | ITA | WILIER TRIESTINA – SELLE ITALIA | 24 | 3:05:28 |
| 64 | VALOGNES | Quentin | FRA | TEAM NOVO NORDISK | 22 | 3:06:21 |
| 65 | MAYOUF | Khalid | UAE | UNITED ARAB EMIRATES | 24 | 3:06:21 |
| 66 | PEARSON | Daniel | GBR | AQUA BLUE SPORT | 24 | 3:05:28 |
| 67 | BERTAZZO | Liam | ITA | WILIER TRIESTINA – SELLE ITALIA | 26 | 3:05:28 |
| 68 | CONSONNI | Simone | ITA | UAE TEAM EMIRATES | 24 | 3:05:28 |
| 69 | BONO | Matteo | ITA | UAE TEAM EMIRATES | 35 | 3:05:28 |
| 70 | CHRISTIAN | Mark | GBR |   | 28 | 3:05:28 |
| 71 | BRAMMEIER | Matthew | IRL | AQUA BLUE SPORT | 33 | 3:06:21 |
| 72 | DUNNE | Conor | IRL | AQUA BLUE SPORT | 26 | 3:05:28 |
| 73 | POLI | Umberto | ITA | TEAM NOVO NORDISK | 22 | 3:05:28 |
| 74 | AIT EL ABDIA | Anass | MAR | UAE TEAM EMIRATES | 25 | 3:05:28 |
| 75 | EISEL | Bernhard | AUT | TEAM DIMENSION DATA | 37 | 3:05:28 |
| 76 | EDET | Nicolas | FRA | COFIDIS, SOLUTIONS CREDITS | 31 | 3:06:29 |
| 77 | LEEZER | Thomas | NED | TEAM LOTTO NL – JUMBO | 33 | 3:05:28 |
| 78 | HUFF | Charles Bradley | USA | RALLY CYCLING | 39 | 3:05:28 |
| 79 | RAST | Gregory | SUI | TREK – SEGAFREDO | 38 | 3:06:43 |
| 80 | BRÄNDLE | Matthias | AUT | TREK – SEGAFREDO | 29 | 3:05:28 |
| 81 | GARCIA CORTINA | Ivan | ESP | BAHRAIN – MERIDA | 23 | 3:05:28 |
| 82 | CARPENTER | Robin | USA | RALLY CYCLING | 26 | 3:05:28 |
| 83 | LINDEMAN | Bert-Jan | NED | TEAM LOTTO NL – JUMBO | 29 | 3:06:53 |
| 84 | XUE | Fuwen | CHN | MITCHELTON – BIKEEXCHANGE | 22 | 3:06:56 |
| 85 | AL KAABI | Saif | UAE | UNITED ARAB EMIRATES | 23 | 3:06:59 |
| 86 | BIZHIGITOV | Zhandos | KAZ | ASTANA PRO TEAM | 27 | 3:07:01 |
| 87 | NIBALI | Vincenzo | ITA | BAHRAIN – MERIDA | 34 | 3:07:01 |
| 88 | FOMINYKH | Daniil | KAZ | ASTANA PRO TEAM | 27 | 3:07:01 |
| 89 | GHEBREIGZABHIER WERKILUL | Amanuel | ERI | TEAM DIMENSION DATA | 24 | 3:07:01 |
| 90 | THOMSON | Jay Robert | RSA | TEAM DIMENSION DATA | 32 | 3:05:28 |
| 91 | DECLERCQ | Tim | BEL | QUICK – STEP FLOORS | 29 | 3:07:01 |
| 92 | RENSHAW | Mark | AUS | TEAM DIMENSION DATA | 36 | 3:05:28 |
| 93 | CAVENDISH | Mark | GBR | TEAM DIMENSION DATA | 33 | 3:05:28 |
| 94 | VERMOTE | Julien | BEL | TEAM DIMENSION DATA | 29 | 3:05:28 |
| 95 | JAKOBSEN | Fabio | NED | QUICK – STEP FLOORS | 22 | 3:07:01 |
| 96 | DOWSETT | Alex | GBR | TEAM KATUSHA ALPECIN | 30 | 3:07:01 |
| 97 | BOUHANNI | Nacer | FRA | COFIDIS, SOLUTIONS CREDITS | 28 | 3:05:28 |
| 98 | DEGENKOLB | John | GER | TREK – SEGAFREDO | 29 | 3:05:28 |
| 99 | NIZZOLO | Giacomo | ITA | TREK – SEGAFREDO | 29 | 3:05:28 |
| 100 | PER | David | SLO | BAHRAIN – MERIDA | 23 | 3:07:12 |
| 101 | DEBESAY | Mekseb | ERI | TEAM DIMENSION DATA | 27 | 3:07:39 |
| 102 | SKUJINS | Toms | LAT | TREK – SEGAFREDO | 27 | 3:07:45 |
| 103 | ALAFACI | Eugenio | ITA | TREK – SEGAFREDO | 28 | 3:07:45 |
| 104 | MATHIS | Marco | GER | TEAM KATUSHA ALPECIN | 24 | 3:08:38 |
| 105 | BOZIC | Borut | SLO | BAHRAIN – MERIDA | 38 | 3:05:28 |
| DNF | WILLIAMS | Christopher | AUS | TEAM NOVO NORDISK | 37 | |
DUBAI TOUR 2018 GENERAL CLASSIFICATION
| | | | | | | |
| --- | --- | --- | --- | --- | --- | --- |
| 1 | VIVIANI | Elia | ITA | QUICK – STEP FLOORS | 29 | 19:05:46 |
| 2 | NIELSEN | Magnus Cort | DEN | ASTANA PRO TEAM | 25 | 19:05:58 |
| 3 | COLBRELLI | Sonny | ITA | BAHRAIN – MERIDA | 28 | 19:06:00 |
| 4 | VAN HOOYDONCK | Nathan | BEL | BMC RACING TEAM | 23 | 19:06:03 |
| 5 | VLIEGEN | Loïc | BEL | BMC RACING TEAM | 25 | 19:06:04 |
| 6 | BOUHANNI | Nacer | FRA | COFIDIS, SOLUTIONS CREDITS | 28 | 19:06:04 |
| 7 | ROOSEN | Timo | NED | TEAM LOTTO NL – JUMBO | 25 | 19:06:06 |
| 8 | DRUCKER | Jean-Pierre | LUX | BMC RACING TEAM | 32 | 19:06:10 |
| 9 | KRISTOFF | Alexander | NOR | UAE TEAM EMIRATES | 31 | 19:06:10 |
| 10 | ZABEL | Rick | GER | TEAM KATUSHA ALPECIN | 25 | 19:06:10 |
| 11 | TEUNS | Dylan | BEL | BMC RACING TEAM | 26 | 19:06:10 |
| 12 | CAVENDISH | Mark | GBR | TEAM DIMENSION DATA | 33 | 19:06:11 |
| 13 | POZZATO | Filippo | ITA | WILIER TRIESTINA – SELLE ITALIA | 37 | 19:06:19 |
| 14 | MCNULTY | Brandon | USA | RALLY CYCLING | 20 | 19:06:20 |
| 15 | ROCHE | Nicolas | IRL | BMC RACING TEAM | 34 | 19:06:21 |
| 16 | KREDER | Michel | NED | AQUA BLUE SPORT | 31 | 19:06:21 |
| 17 | KITTEL | Marcel | GER | TEAM KATUSHA ALPECIN | 30 | 19:06:24 |
| 18 | KUZNETSOV | Viacheslav | RUS | TEAM KATUSHA ALPECIN | 29 | 19:06:36 |
| 19 | JANSEN | Amund Grøndahl | NOR | TEAM LOTTO NL – JUMBO | 24 | 19:06:57 |
| 20 | LAMPAERT | Yves | BEL | QUICK – STEP FLOORS | 27 | 19:07:13 |
| 21 | DEGENKOLB | John | GER | TREK – SEGAFREDO | 29 | 19:07:16 |
| 22 | RENSHAW | Mark | AUS | TEAM DIMENSION DATA | 36 | 19:07:28 |
| 23 | NIZZOLO | Giacomo | ITA | TREK – SEGAFREDO | 29 | 19:07:32 |
| 24 | VAN POPPEL | Boy | NED | TREK – SEGAFREDO | 30 | 19:07:55 |
| 25 | BIEKEN | Nazhaerbieke | CHN | MITCHELTON – BIKEEXCHANGE | 24 | 19:08:21 |
| 26 | POLITT | Nils | GER | TEAM KATUSHA ALPECIN | 24 | 19:08:21 |
| 27 | VENTOSO ALBERDI | Francisco Jose | ESP | BMC RACING TEAM | 36 | 19:08:22 |
| 28 | PERON | Andrea | ITA | TEAM NOVO NORDISK | 30 | 19:08:39 |
| 29 | BLYTHE | Adam | GBR | AQUA BLUE SPORT | 29 | 19:08:49 |
| 30 | VERMOTE | Julien | BEL | TEAM DIMENSION DATA | 29 | 19:08:53 |
| 31 | SABATINI | Fabio | ITA | QUICK – STEP FLOORS | 33 | 19:08:57 |
| 32 | MAGNER | Tyler | USA | RALLY CYCLING | 27 | 19:09:03 |
| 33 | NIBALI | Vincenzo | ITA | BAHRAIN – MERIDA | 34 | 19:09:08 |
| 34 | JENNER | Samuel | AUS | MITCHELTON – BIKEEXCHANGE | 21 | 19:09:09 |
| 35 | TERPSTRA | Niki | NED | QUICK – STEP FLOORS | 34 | 19:09:21 |
| 36 | VAN LERBERGHE | Bert | BEL | COFIDIS, SOLUTIONS CREDITS | 26 | 19:09:25 |
| 37 | GANNA | Filippo | ITA | UAE TEAM EMIRATES | 22 | 19:09:27 |
| 38 | HENNESSY | Jacob | GBR | MITCHELTON – BIKEEXCHANGE | 22 | 19:09:35 |
| 39 | LEMOINE | Cyril | FRA | COFIDIS, SOLUTIONS CREDITS | 35 | 19:09:41 |
| 40 | BYSTRØM | Sven Erik | NOR | UAE TEAM EMIRATES | 26 | 19:09:53 |
| 41 | GROENEWEGEN | Dylan | NED | TEAM LOTTO NL – JUMBO | 25 | 19:09:56 |
| 42 | LEEZER | Thomas | NED | TEAM LOTTO NL – JUMBO | 33 | 19:10:01 |
| 43 | CONSONNI | Simone | ITA | UAE TEAM EMIRATES | 24 | 19:10:38 |
| 44 | FENN | Andrew | GBR | AQUA BLUE SPORT | 28 | 19:11:13 |
| 45 | BOHLI | Tom | SUI | BMC RACING TEAM | 24 | 19:11:19 |
| 46 | NAVARRO GARCIA | Daniel | ESP | COFIDIS, SOLUTIONS CREDITS | 35 | 19:11:32 |
| 47 | CHETOUT | Loic | FRA | COFIDIS, SOLUTIONS CREDITS | 26 | 19:11:47 |
| 48 | HALLER | Marco | AUT | TEAM KATUSHA ALPECIN | 27 | 19:12:11 |
| 49 | CHRISTIAN | Mark | GBR |   | 28 | 19:12:21 |
| 50 | KOREN | Kristijan | SLO | BAHRAIN – MERIDA | 32 | 19:12:58 |
| 51 | DE VREESE | Laurens | BEL | ASTANA PRO TEAM | 30 | 19:13:34 |
| 52 | MINALI | Riccardo | ITA | ASTANA PRO TEAM | 23 | 19:13:47 |
| 53 | KAMSTRA | Brian | NED | TEAM NOVO NORDISK | 25 | 19:13:47 |
| 54 | BENHAMOUDA | Mehdi | FRA | TEAM NOVO NORDISK | 23 | 19:13:51 |
| 55 | STANNARD | Robert | AUS | MITCHELTON – BIKEEXCHANGE | 20 | 19:13:51 |
| 56 | HUFF | Charles Bradley | USA | RALLY CYCLING | 39 | 19:13:51 |
| 57 | AIT EL ABDIA | Anass | MAR | UAE TEAM EMIRATES | 25 | 19:13:51 |
| 58 | BOZIC | Borut | SLO | BAHRAIN – MERIDA | 38 | 19:13:51 |
| 59 | DEBESAY | Mekseb | ERI | TEAM DIMENSION DATA | 27 | 19:13:53 |
| 60 | MARECZKO | Jakub | ITA | WILIER TRIESTINA – SELLE ITALIA | 24 | 19:14:03 |
| 61 | PACIONI | Luca | ITA | WILIER TRIESTINA – SELLE ITALIA | 25 | 19:14:03 |
| 62 | TLEUBAYEV | Ruslan | KAZ | ASTANA PRO TEAM | 31 | 19:14:22 |
| 63 | ZHUPA | Eugert | ALB | WILIER TRIESTINA – SELLE ITALIA | 28 | 19:14:47 |
| 64 | EDET | Nicolas | FRA | COFIDIS, SOLUTIONS CREDITS | 31 | 19:14:54 |
| 65 | RAST | Gregory | SUI | TREK – SEGAFREDO | 38 | 19:15:06 |
| 66 | KORSÆTH | Truls | NOR | ASTANA PRO TEAM | 25 | 19:15:13 |
| 67 | GIRMAZION | Daniel | ERI |   | 30 | 19:15:15 |
| 68 | GHEBREIGZABHIER WERKILUL | Amanuel | ERI | TEAM DIMENSION DATA | 24 | 19:15:24 |
| 69 | TANKINK | Bram | NED | TEAM LOTTO NL – JUMBO | 40 | 19:15:54 |
| 70 | BERTAZZO | Liam | ITA | WILIER TRIESTINA – SELLE ITALIA | 26 | 19:16:52 |
| 71 | COLEDAN | Marco | ITA | WILIER TRIESTINA – SELLE ITALIA | 30 | 19:16:58 |
| 72 | BONO | Matteo | ITA | UAE TEAM EMIRATES | 35 | 19:17:13 |
| 73 | GARCIA CORTINA | Ivan | ESP | BAHRAIN – MERIDA | 23 | 19:17:17 |
| 74 | MIRZA AL-HAMMADI | Yousif | UAE | UAE TEAM EMIRATES | 30 | 19:17:55 |
| 75 | JAKOBSEN | Fabio | NED | QUICK – STEP FLOORS | 22 | 19:17:56 |
| 76 | BEVILACQUA | Simone | ITA | WILIER TRIESTINA – SELLE ITALIA | 21 | 19:17:59 |
| 77 | LINDEMAN | Bert-Jan | NED | TEAM LOTTO NL – JUMBO | 29 | 19:18:00 |
| 78 | PER | David | SLO | BAHRAIN – MERIDA | 23 | 19:18:13 |
| 79 | EISEL | Bernhard | AUT | TEAM DIMENSION DATA | 37 | 19:18:22 |
| 80 | DOWSETT | Alex | GBR | TEAM KATUSHA ALPECIN | 30 | 19:18:22 |
| 81 | DUNNE | Conor | IRL | AQUA BLUE SPORT | 26 | 19:18:25 |
| 82 | THOMSON | Jay Robert | RSA | TEAM DIMENSION DATA | 32 | 19:18:30 |
| 83 | DECLERCQ | Tim | BEL | QUICK – STEP FLOORS | 29 | 19:18:41 |
| 84 | PATE | Danny | USA | RALLY CYCLING | 39 | 19:18:57 |
| 85 | ALMEMARI | Nasser | UAE | UNITED ARAB EMIRATES | 31 | 19:19:35 |
| 86 | BOLE | Grega | SLO | BAHRAIN – MERIDA | 33 | 19:19:38 |
| 87 | PLANET | Charles | FRA | TEAM NOVO NORDISK | 25 | 19:19:45 |
| 88 | SCHACHMANN | Maximilian | GER | QUICK – STEP FLOORS | 24 | 19:20:02 |
| 89 | YOUNG | Eric | USA | RALLY CYCLING | 29 | 19:20:28 |
| 90 | BRÄNDLE | Matthias | AUT | TREK – SEGAFREDO | 29 | 19:20:28 |
| 91 | CARPENTER | Robin | USA | RALLY CYCLING | 26 | 19:20:56 |
| 92 | POLI | Umberto | ITA | TEAM NOVO NORDISK | 22 | 19:21:06 |
| 93 | BRAMMEIER | Matthew | IRL | AQUA BLUE SPORT | 33 | 19:21:45 |
| 94 | FOMINYKH | Daniil | KAZ | ASTANA PRO TEAM | 27 | 19:22:19 |
| 95 | ALBALUSHI | Majid | UAE | UNITED ARAB EMIRATES | 31 | 19:22:48 |
| 96 | VALOGNES | Quentin | FRA | TEAM NOVO NORDISK | 22 | 19:24:29 |
| 97 | BIZHIGITOV | Zhandos | KAZ | ASTANA PRO TEAM | 27 | 19:25:02 |
| 98 | SUN | Xiaolong | CHN | MITCHELTON – BIKEEXCHANGE |   | 19:25:11 |
| 99 | SKUJINS | Toms | LAT | TREK – SEGAFREDO | 27 | 19:25:53 |
| 100 | PEARSON | Daniel | GBR | AQUA BLUE SPORT | 24 | 19:26:26 |
| 101 | ALAFACI | Eugenio | ITA | TREK – SEGAFREDO | 28 | 19:28:44 |
| 102 | MATHIS | Marco | GER | TEAM KATUSHA ALPECIN | 24 | 19:29:05 |
| 103 | AL KAABI | Saif | UAE | UNITED ARAB EMIRATES | 23 | 19:30:15 |
| 104 | MAYOUF | Khalid | UAE | UNITED ARAB EMIRATES | 24 | 19:33:37 |
| 105 | XUE | Fuwen | CHN | MITCHELTON – BIKEEXCHANGE | 22 | 19:35:15 |