Technically speaking, Milano-Sanremo should turn pale in comparison to Belgian classics and major one-day races in general. Passo del Turchino hasn't been decisive anymore since the middle of the second half of the twentieth century, Cipressa holds the memories of celebrated attacks in the past and on the Poggio the brakes are called to action on the hairpin turns. By the way, 282 kilometers of racing stand between the start in Milan and the bottom of the Poggio, where climbers, punchers and the toughest sprinters are traditionally all together to compete for the victory, making the Italian classic the only one-day race that can be afforded by every participant.
The finish line is set where 107 winners lifted their arms to the sky. Where Fausto Coppi won and, waiting for the runner-up, the radio broadcasted '40s dance music. Where every wheather condition framed the longest path from home over the last decades in road cycling. Where World Wars were overtaken and where crowds were attracted to the streets making it a popular event. What makes Milano-Sanremo the first Monument race of the season is the unique spirit of this race, the distinguishing features of its route and the love of the people.
Live Starts at 10:00 CET.
Remember to check out the Startlist: Milano-SanRemo 2018 Startlist
Milano-Sanremo 2018 Profile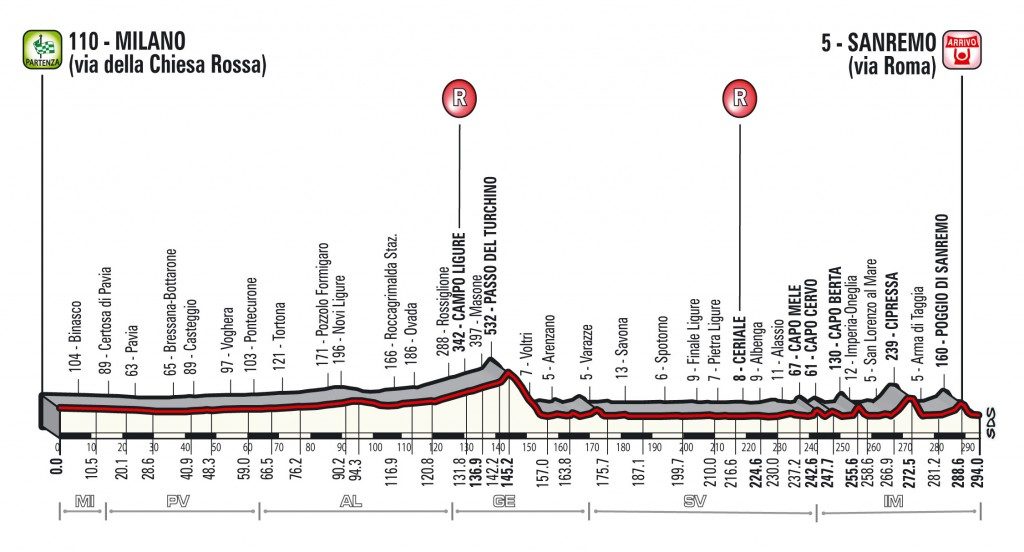 LIVE