Greg van Avermaet triumphs at Stage 3 of the Tour of Oman 2018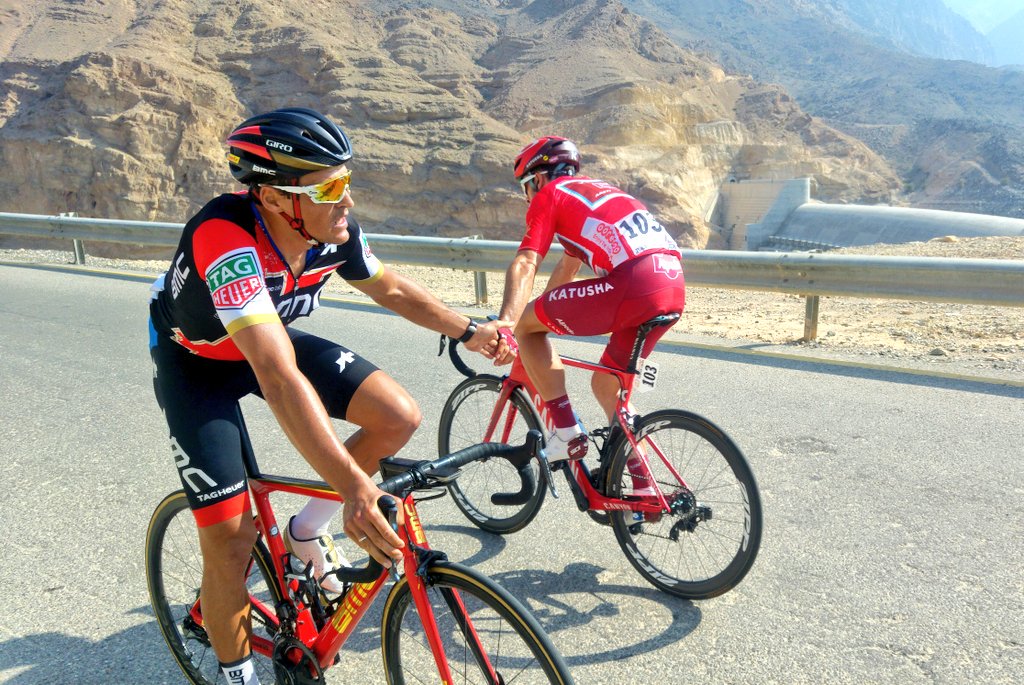 Greg van Avermaet triumphs at Stage 3 of the Tour of Oman 2018. It was a hot day for a lumpy stage three of the Tour of Oman. The peloton raced from the German University of Technology to Wadi Dayqah Dam on a route that spanned 179.5km with three categorized climbs along baron sandy roads. With no spectators on the roadside and no live television coverage broadcast, it's a race that might leave you wondering who it's really for…
It was straight down to business this morning and a group of riders quickly tried to break away. Yesterday's most combative rider, Loic Chetout (Cofidis) was one of them. He was joined by Xandro Meurisse (Wanty-Groupe Gobert), Wouter Wippert (Roompot-Nederlandse Loterij) & Nicholas Schultz (Caja Rural-Seguros RGA). Together they managed to open up a 1-minute gap at around the five kilometre mark.
It was the job of Katusha-Alpecin to set the pace at the front the bunch today, and they didn't ever let the break get too far from their sights. The gap hovered narrowly around 2'50" for the first 25 kilometres of racing. However, the four-man breakaway managed to push their lead to 3'55 by the 50 kilometre mark and take the first climb of the day together, the  Al Jabal Street (Bousher Al Amerat) followed by the intermediate sprint. Points were shared among the group but Loïc Chetout (Cofidis) took both primes.
With 100 kilometres left to race, the peloton decides it's time to pull on the leash. Astana works with Katusha on the front and the gap begins to narrow with the break holding 2'55 at 85 kilometres from the finish line. The break holds steady as the race heads into the blistering heat of the most challenging climbs of the day. Despite suffering a puncture in the foothills, Loïc Chetout takes the KOM once more, atop the Climb of Quriyat (km 132.5) and pushes hard to take following intermediate sprint. After securing the most aggressive rider classification for another stage he rolls up his shorts and sleeves to work on his tan while waiting for the peloton.
The breakaway, now stripped down to three, suffer under the intense heat and are swallowed by the peloton with 20 km to go to the finish. Katusha trys to take control and put Nathan Haas in position but the after an intense battle on the final climb, the days honours and overall position went to Greg Van Avermaet of BMC Racing.
Stage 3 results
1
 

VAN AVERMAET

 Greg
BMC Racing Team

4:36:04

2
 

COSTA

 Rui
UAE-Team Emirates

0:03

3
 

LUTSENKO

 Alexey
Astana Pro Team

,,

4
 

IZAGIRRE

 Gorka
Bahrain Merida Pro Cycling Team

,,

5
 

HAAS

 Nathan
Team Katusha – Alpecin

0:07

6
 

CORT NIELSEN

 Magnus
Astana Pro Team

,,

7
 

EIKING

 Odd Christian
Wanty – Groupe Gobert

0:09

8
 

DEVENYNS

 Dries
Quick-Step Floors

,,

9
 

LOPEZ

 Miguel Angel
Astana Pro Team

,,

10
 

HERRADA

 Jesús
Cofidis, Solutions Crédits

,,

11
 

NAVARRO

 Daniel
Cofidis, Solutions Crédits

,,

12
 

KRISTOFF

 Alexander
UAE-Team Emirates

0:14

13
 

VISCONTI

 Giovanni
Bahrain Merida Pro Cycling Team

0:17

14
 

KUDUS

 Merhawi
Dimension Data

,,

15
 

NIBALI

 Vincenzo
Bahrain Merida Pro Cycling Team

,,

16
 

NIZZOLO

 Giacomo
Trek – Segafredo

,,

17
 

CONCI

 Nicola
Trek – Segafredo

,,

18
 

DOUBEY

 Fabien
Wanty – Groupe Gobert

,,

19
 

CAVAGNA

 Rémi
Quick-Step Floors

0:20

20
 

ARANBURU

 Alex
Caja Rural – Seguros RGA

0:24

21
 

BERHANE

 Natnael
Dimension Data

,,

22
 

CHRISTIAN

 Mark
Aqua Blue Sport

,,

23
 

GERTS

 Floris
Roompot – Nederlandse Loterij

,,

24
 

CRAS

 Steff
Team Katusha – Alpecin

,,

25
 

EDET

 Nicolas
Cofidis, Solutions Crédits

,,

26
 

FELLINE

 Fabio
Trek – Segafredo

,,

27
 

JANSE VAN RENSBURG

 Jacques
Dimension Data

,,

28
 

DECLERCQ

 Benjamin
Sport Vlaanderen – Baloise

,,

29
 

LUNKE

 Sindre Skjøstad
Fortuneo – Samsic

,,

30
 

PERICHON

 Pierre-Luc
Fortuneo – Samsic

0:30

31
 

DAVIES

 Scott
Dimension Data

,,

32
 

STETINA

 Peter
Trek – Segafredo

,,

33
 

CAPECCHI

 Eros
Quick-Step Floors

,,

34
 

PEARSON

 Daniel
Aqua Blue Sport

,,

35
 

THEUNS

 Edward
Team Sunweb

,,

36
 

CELANO

 Danilo
Caja Rural – Seguros RGA

,,

37
 

DELTOMBE

 Kevin
Sport Vlaanderen – Baloise

0:36

38
 

BOUHANNI

 Nacer
Cofidis, Solutions Crédits

0:37

39
 

BOSWELL

 Ian
Team Katusha – Alpecin

0:39

40
 

VAN GINNEKEN

 Sjoerd
Roompot – Nederlandse Loterij

0:44

41
 

DLAMINI

 Nickolas
Dimension Data

,,

42
 

DECLERCQ

 Tim
Quick-Step Floors

0:46

43
 

REIJNEN

 Kiel
Trek – Segafredo

0:49

44
 

IRISARRI

 Jon
Caja Rural – Seguros RGA

0:50

45
 

CARPENTER

 Robin
Rally Cycling

0:53

46
 

PEDERSEN

 Casper
Aqua Blue Sport

0:57

47
 

MEURISSE

 Xandro
Wanty – Groupe Gobert

1:09

48
 

TERPSTRA

 Niki
Quick-Step Floors

,,

49
 

BETTIOL

 Alberto
BMC Racing Team

1:12

50
 

DRUCKER

 Jean-Pierre
BMC Racing Team

,,

51
 

DANIEL

 Maxime
Fortuneo – Samsic

1:16

52
 

REINDERS

 Elmar
Roompot – Nederlandse Loterij

1:17

53
 

HOLLENSTEIN

 Reto
Team Katusha – Alpecin

,,

54
 

MANZIN

 Lorrenzo
Vital Concept Cycling Club

1:25

55
 

BERNARD

 Julien
Trek – Segafredo

,,

56
 

DE VOS

 Adam
Rally Cycling

,,

57
 

BOARO

 Manuele
Bahrain Merida Pro Cycling Team

,,

58
 

TUSVELD

 Martijn
Team Sunweb

,,

59
 

FRÖHLINGER

 Johannes
Team Sunweb

1:27

60
 

VENTOSO

 Francisco
BMC Racing Team

,,

61
 

PIBERNIK

 Luka
Bahrain Merida Pro Cycling Team

1:29

62
 

GERARD

 Arnaud
Fortuneo – Samsic

,,

63
 

IRIZAR

 Markel
Trek – Segafredo

,,

64
 

ROCHE

 Nicolas
BMC Racing Team

,,

65
 

VACHON

 Florian
Fortuneo – Samsic

,,

66
 

MARTINELLI

 Davide
Quick-Step Floors

,,

67
 

KANGERT

 Tanel
Astana Pro Team

1:35

68
 

LE BON

 Johan
Vital Concept Cycling Club

1:50

69
 

DOUGALL

 Nick
Dimension Data

2:05

70
 

ANTONINI

 Simone
Wanty – Groupe Gobert

2:07

71
 

BLYTHE

 Adam
Aqua Blue Sport

2:18

72
 

LEMOINE

 Cyril
Cofidis, Solutions Crédits

2:24

73
 

FRAILE

 Omar
Astana Pro Team

2:30

74
 

HIRT

 Jan
Astana Pro Team

,,

75
 

NIBALI

 Antonio
Bahrain Merida Pro Cycling Team

2:32

76
 

WEENING

 Pieter
Roompot – Nederlandse Loterij

2:34

77
 

POLITT

 Nils
Team Katusha – Alpecin

2:37

78
 

MARCATO

 Marco
UAE-Team Emirates

2:49

79
 

VAN LERBERGHE

 Bert
Cofidis, Solutions Crédits

2:55

80
 

FENN

 Andrew
Aqua Blue Sport

2:57

81
 

CURVERS

 Roy
Team Sunweb

3:00

82
 

NIEMIEC

 Przemyslaw
UAE-Team Emirates

3:11

83
 

DURASEK

 Kristijan
UAE-Team Emirates

,,

84
 

KREDER

 Wesley
Wanty – Groupe Gobert

,,

85
 

MCNALLY

 Mark
Wanty – Groupe Gobert

,,

86
 

FERRARI

 Fabricio
Caja Rural – Seguros RGA

,,

87
 

DUNNE

 Conor
Aqua Blue Sport

3:14

88
 

CARBEL 

Michael
Fortuneo – Samsic

,,

89
 

BOZIC

 Borut
Bahrain Merida Pro Cycling Team

3:16

90
 

WARLOP

 Jordi
Sport Vlaanderen – Baloise

3:29

91
 

ARCHBOLD

 Shane
Aqua Blue Sport

3:37

92
 

CAPIOT

 Amaury
Sport Vlaanderen – Baloise

3:48

93
 

VAN ROOY

 Kenneth
Sport Vlaanderen – Baloise

4:02

94
 

YSSAAD

 Yannis
Caja Rural – Seguros RGA

4:04

95
 

OIEN

 Justin
Caja Rural – Seguros RGA

4:17

96
 

MORICE

 Julien
Vital Concept Cycling Club

5:44

97
 

COQUARD

 Bryan
Vital Concept Cycling Club

,,

98
 

VAN HOOYDONCK

 Nathan
BMC Racing Team

6:55

99
 

DE GENDT

 Aime
Sport Vlaanderen – Baloise

6:57

100
 

CAVENDISH

 Mark
Dimension Data

7:12

101
 

RÉZA

 Kévin
Vital Concept Cycling Club

,,

102
 

STAMSNIJDER

 Tom
Team Sunweb

7:14

103
 

PATE

 Danny
Rally Cycling

,,

104
 

JAKOBSEN

 Fabio
Quick-Step Floors

,,

105
 

VAN GOETHEM

 Brian
Roompot – Nederlandse Loterij

,,

106
 

FARAZIJN

 Maxime
Sport Vlaanderen – Baloise

,,

107
 

DE BACKER

 Bert
Vital Concept Cycling Club

,,

108
 

STALNOV

 Nikita
Astana Pro Team

,,

109
 

WALSCHEID

 Max
Team Sunweb

,,

110
 

TROIA

 Oliviero
UAE-Team Emirates

,,

111
 

MCNULTY

 Brandon
Rally Cycling

,,

112
 

WELTEN

 Bram
Fortuneo – Samsic

,,

113
 

KUZNETSOV

 Viacheslav
Team Katusha – Alpecin

,,

114
 

YOUNG

 Eric
Rally Cycling

,,

115
 

CHETOUT

 Loïc
Cofidis, Solutions Crédits

,,

116
 

PLANCKAERT

 Baptiste
Team Katusha – Alpecin

,,

117
 

SCHAR

 Michael
BMC Racing Team

,,

118
 

FERRARI

 Roberto
UAE-Team Emirates

,,

119
 

MAGNER

 Ty
Rally Cycling

7:21

120
 

LIGTHART

 Pim
Roompot – Nederlandse Loterij

7:22

121
 

HUFF

 Charles Bradley
Rally Cycling

7:31

122
 

VALLÉE

 Boris
Wanty – Groupe Gobert

12:38

123
 

BOECKMANS

 Kris
Vital Concept Cycling Club

,,

124
 

SCHULTZ

 Nick
Caja Rural – Seguros RGA

13:09

125
 

WIPPERT

 Wouter
Roompot – Nederlandse Loterij

13:39

DNF
 

ANDERSEN

 Søren Kragh
Team Sunweb

-4:36:04
Overall standings after Stage 3
Greg Van Avermaet (BMC Racing Team)
Alexey Lutsenko (Astana Pro Team) à 11″
Nathan Haas (Katusha-Alpecin) à 13″
Gorka Izaguirre (Bahrain-Merida) à 19″
Dries Devenyns (Quick Step-Floors) à 25″
Odd Christian Eiking (Wanty-Groupe Gobert)
Miguel Angel Lopez (Astana Pro Team)
Jésus Herrada (Cofidis)
Daniel Navarro (Cofidis)
Merhawi Kudus (Dimension Data) à 33″