Dwars door West-Vlaanderen 2018 Preview

Dwars door West-Vlaanderen Johan Museeuw Classic not to be confused with the Dwars door Vlaanderen (which will take place later this month on March 28) is a 1.1 race across the West Flanders region. It starts in Vismijn van Nieuwpoort and will take the peloton over 189.3 kilometres of terrain with passages in Middelkerke, Gistel, Diksmuide and Ieper and its Ypres Salient battlefields to finish in the 'Heuvelland'.
The main challenge of the day will come in the form of the Kemmelberg, arriving after 73 kilometers of racing. This will be followed by the Rodeberg, Westouter, Poperinge and Kortemark. Not dissimilar in format to Le Samyn, the route will join a circuit after 137.3 kilometers. The race will finish with four laps of 13 kilometers, featuring two cobblestone sections and the ascent of the Keiberg and Catteberg climbs.
Previous winners
2017  Jos Van Emden
2016 Sean de Bie
2015 Yves Lampaert
2014 Gert Jõeäär
2013 Kristof Vandewalle
2012 Julien Vemote
2011 Jesse Sergent
2010 Jens Keukeleire
2009 Johnny Hoogerland
2008 Bobbie Traksel
Dwars door West-Vlaanderen 2018 Route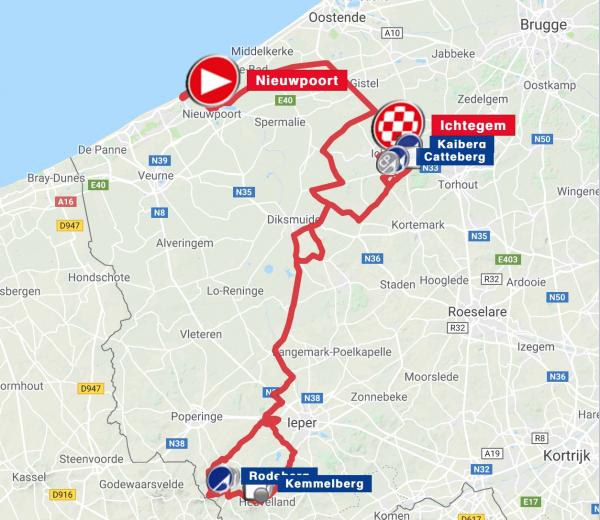 Dwars door West-Vlaanderen 2018 Profile
Provisional Starlist
QUICKSTEP FLOORS
1 RICHEZE Maximiliano Ariel
2 CAVAGNA Rémi
3 MARTINELLI Davide
4 JAKOBSEN Fabio
5 NARVAEZ Jhonnatan
6 HODEG CHAGUI Alvaro Jose
7 SENECHAL Florian
LOTTO SOUDAL
11 ARMEE Sander
12 FRISON Frederik
13 HOFLAND Moreno
14 MERTZ Remy
15 NAESEN Lawrence
16 VANENDERT Jelle
17 WOUTERS Enzo
VITAL CONCEPT CYCLING CLUB
21 COQUARD Bryan
22 VAN GENECHTEN Jonas
23 BOECKMANS Kris
24 DE BACKER Bert
25 LE BON Johan
26 MORICE Julien
27 MÜLLER Patrick
COFIDIS, SOLUTIONS CREDITS
31 CLAEYS Dimitri
32 VANBILSEN Kenneth
33 VAN STAEYEN Michaël
34 GODON Dorian
35 TURGIS Jimmy
36 TURGIS Anthony
37 CHETOUT Loic
WANTY – GROUPE GOBERT
41 BACKAERT Frederik
42w DEVRIENDT Tom
43w DUPONT Timothy
44 KREDER Wesley
45w VAN KEIRSBULCK Guillaume
46w VANSPEYBROUCK Pieter
47 OFFREDO Yoann
VERANDA'S WILLEMS – CRELAN
51w LIVYNS Arjen
52 VAN BREUSSEGEM Elias
53 GOOLAERTS Michael
54 KRUOPIS Aidis
55 LEYSEN Senne
56 STEELS Stijn
57w WAEYTENS Zico
SPORT VLAANDEREN – BALOISE
61w DECLERCQ Benjamin
62w FARAZIJN Maxime
63w PLANCKAERT Edward
64 VAN GOMPEL Mathias
65w NOPPE Christophe
66 VAN ROOY Kenneth
67 MENTEN Milan
DIRECT ENERGIE
71 GENE Yohann
72 CORNU Jeremy
73 CARDIS Romain
74 PICHOT Alexandre
75 JOURNIAUX Axel
76 SELLIER Simon
77 PETIT Adrien
WB AQUA PROTECT VERANCLASSIC
81 DEHAES Kenny
82 SIX Franklin
83w VANTOMME Maxime
84 KIRSCH Alex
85 DUQUENNOY Jimmy
86 DE WINTER Ludwig
87 SPENGLER Lukas
UNITEDHEALTHCARE PROFESSIONAL CYCLING TEAM
91 ALZATE ESCOBAR Carlos Eduardo
92 CATAFORD Alexander
93 EATON Daniel
94 MARCOTTE Eric
95 MCCABE Travis
96 NORRIS Lachlan
97 PUTT Tanner
ROOMPOT – NEDERLANDSE LOTERIJ
101 LIGTHART Pim
102 ARIESEN Tim
103 BUDDING Martijn
104 GERTS Floris
105 VAN GOETHEM Brian
106 VAN GINNEKEN Sjoerd
107 VERMELTFOORT Coen
TEAM FORTUNEO – SAMSIC
111 SVENDGAARD Michael Carbel
112 LE ROUX Romain
113 GERARD Arnaud
114 JARRIER Benoit
115 DANIEL Maxime
116 VACHON Florian
117 WELTEN Bram
CCC SPRANDI POLKOWICE
121 BERNAS Pawel
122 KUMP Marko
123 GRADEK Kamil
124 KOCH Jonas
125 KUREK Adrian
126 BANASZEK Alan
127 SISR Frantisek
GAZPROM – RUSVELO
131 LAGUTIN Sergey
132 TRUSOV Nikolay
133 SHALUNOV Evgeny
134 KOBERNYAK Evgeny
135 ROVNY Ivan
136 MAIKIN Roman
137 KOZONTCHUK Dmitriy
CIBEL – CEBON
141w MARCHAND Gianni
142 JANS Roy
143
144 JANSSENS Jimmy
145 COENEN Dennis
146 RUYTERS Brecht
147 STEVENS Timothy
BEAT CYCLING CLUB
151 ABRAHAM GEBRU Daniel
152 HAVIK Piotr
153 DESALE Nahom
154 MENGOULAS Alex
155 NÕMMELA Aksel
156 TIETEMA Bas
157 VAN DYCK Wesley
TEAM DIFFERDANGE LOSCH
161 PETELIN Jan
162 RUSNAC Maxim
163 STEMPER Rick
164 TEASDALE Joshua
165 THILL Tom
166 VALVASORI Larry
167 VERWAEST Kevin
TARTELETTO – ISOREX
171 TORRES JORRO Sergio
172 SEFA Ylber
173 BOUCHER David
174 MANNAERTS Jelle
175 RUIJGH Rob
176w MAES Alexander
177 TZORTZAKIS Polychronis
SEG RACING ACADEMY
181 BOL Cees
182 AFFINI Edoardo
183 KOOISTRA Marten
184 LENDERINK Peter
185 MEEUS Jordi
186 VAN DEN BERG Julius
187 SCHELLING Ide
DELTA CYCLING ROTTERDAM
191 BUGTER Luuc
192 FRANCK Eamon Lucas
193 MEIJER Gijs
194 JANSSEN Adriaan
195 TULNER Rens
196 TIMMERMANS Justin
197 VAN DALEN Jason
MONKEY TOWN CONTINENTAL TEAM
201 BAKKER Stephan
202 LOOIJ Andre
203 KLEIMAN Wim
204 DE JONGE Maarten
205 SCHULTING Peter
206 VAN LUIJK Sven
207 VAN RHEE Joey
JOKER ICOPAL
211 AASHEIM Aksel Fischer
212 DAHL Herman
213 EVENSEN Henrik
214 FORFANG Ole
215 HAGEN Carl Fredrik
216 HOELGAARD Markus
217 SKJERPING Kristoffer